Aetna "Better Health" Broadcast Campaign
We were so excited when the San Diego-based creative ad agency Vitro approached us to work with them to create a multi-spot campaign for the health insurance company Aetna. We responded right away to the campaign's creative theme, which revolved around several grounded vignettes that each unfolded in a single shot: a woman with internet troubles, young sleepless parents and a child with an earache, a pregnant woman ready to give birth, a biking trip and a sprained arm, a man on a high dive having second thoughts.  The folks at Vitro thought Revelator director Jonn Herschend would be ideal for this creative approach. We know that Jonn loves this sort of work and he's been making short films in this sort of constrained way for some time. So this project was right in line with the sort of shooting style where Jonn excels. First off, let's take a look at the :30 broadcast campaign spot that incorporates several of the vignettes.
In addition to the :30 compilation of vignettes, the campaign also included stand-along vignettes that each take place in a single shot. Because each shot had to tell the entire story without any cuts, we needed a solid set designer and a DP who could immerse us in the world Jonn was envisioning: something mundane but elevated slightly. It had to look real, but it also had to be cinematic. We worked with Lindsey Lipscomb as our set designer and with Joe Simon as our Director of Photography. We've been a fan of Joe's work for some time and Jonn was very psyched to work with him on this one. He came in with an extremely creative lighting plan that brought the locations to life in a simple and cinematic way. Lindsey did the same with the set design; the rooms felt lived in and real. Let's dive into a specific example of one of the many special creative solutions that made this commercial production so unique, and then we'll watch the final product.
We shot mostly on location for all of our set-ups, with some special planning to execute some of our creative ideas.  One tricky element involved locating a high dive board, which in non-covid times might have been much easier. We had an amazing location scout, Christina Cooper, who scoured the city of Austin and surrounding areas for a high dive, but due to the pandemic, we kept striking out. We then decided that rather than shoot at a real pool, we would "grip" a diving board off of a truck, and create a visual "water effect." Which is easier said than done.
The shot only needed to convey height and the diving board would do the rest. We knew visualizing the effect and shot construction ahead of time was the key to successful execution, so we storyboarded the entire campaign, so we could share it with our agency, client, and production team. Here's a taste of how that storyboard process affected the planning and final frame. This is the frame from our storyboard, alongside the final frame.
STORYBOARD FRAME
FINAL FRAME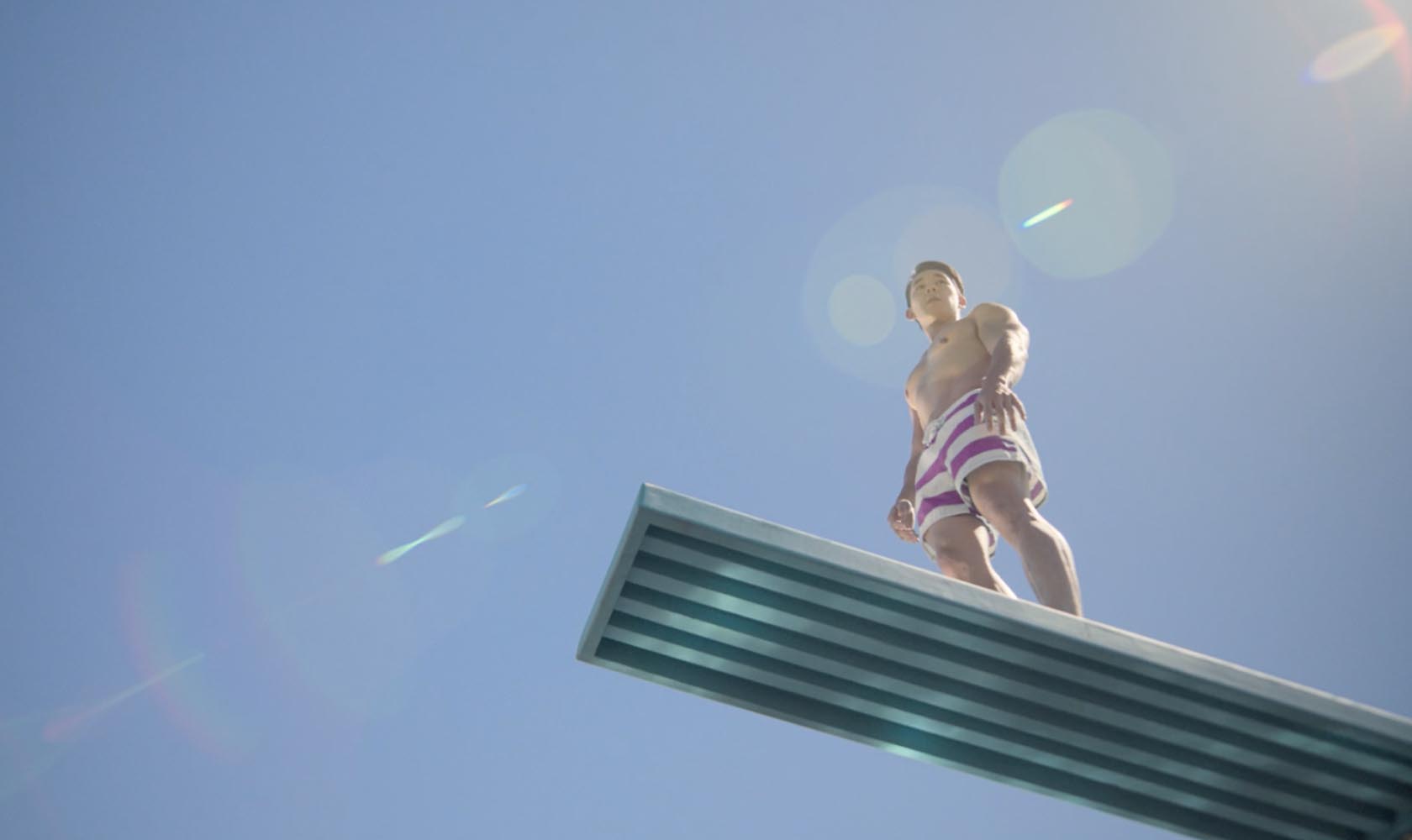 The only issue with the production plan was that we could not find an actual diving board. Apparently, this is not something that one just runs out and purchases at a moment's notice. So we spoke to the team at Lucky Giraffe about creating a diving board for us. They jumped on it and we had a manufactured diving board ready for our video production schedule 3 days later.
We set the diving board up in a field in Dripping Springs TX, so that we could shoot it in tandem with another scene, our family road trip. Our plan was to shoot the family road trip in the morning and then shoot the diving board when the sun was higher in the sky later in the day so our "water effect" plan would be more dynamic.
DIVING BOARD CONSTRUCTION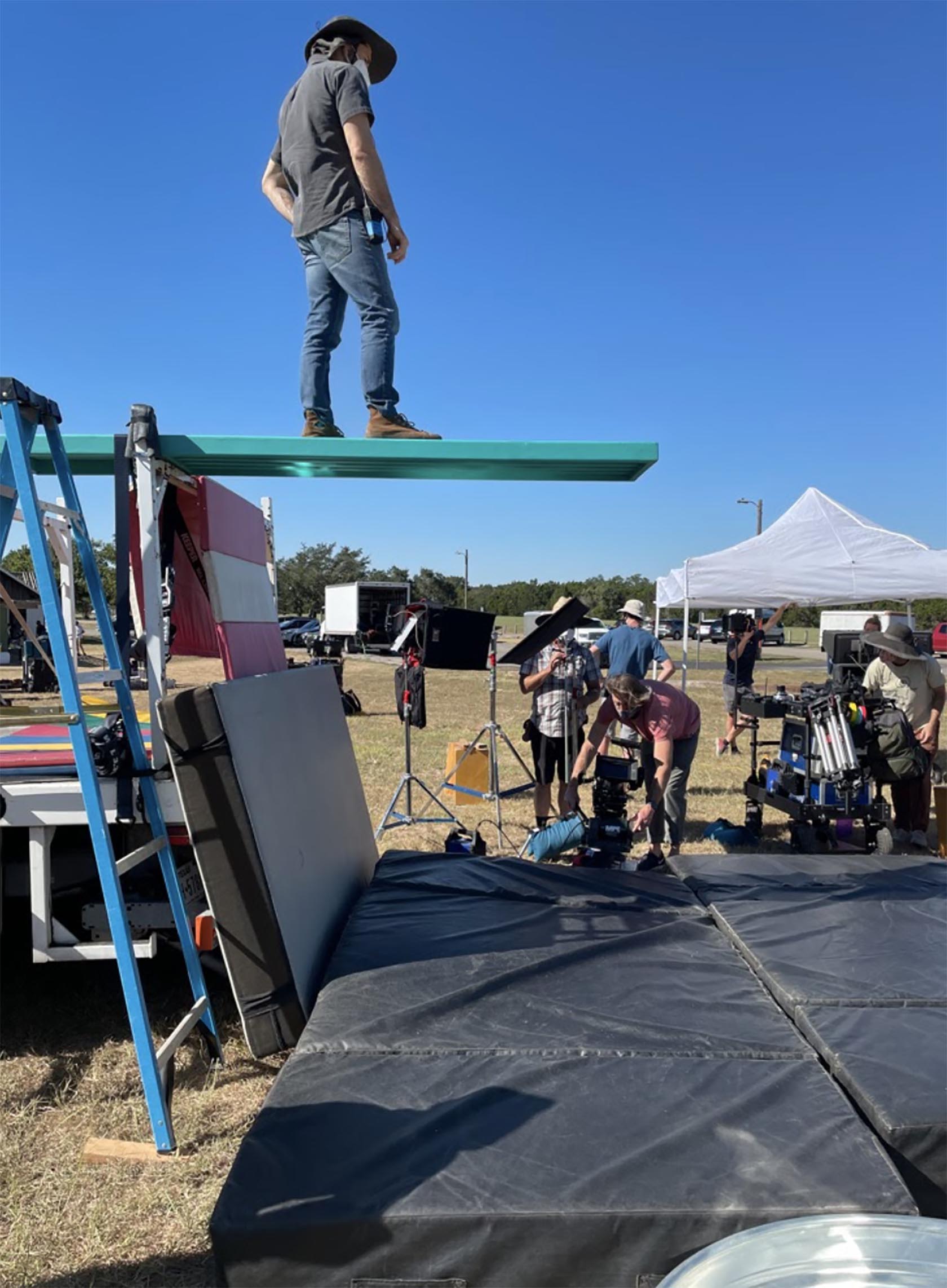 In order to give the appearance that the diving board was over a pool, Joe Simon came up with the idea of placing cracked mirrors at the bottom of several water containers. With the help of a fan and lighting, we had the "swimming pool" effect beneath the diving board.
DIVING BOARD WATER EFFECT
Below you can see the end result, with Jason Mraz's music and the pool-influenced audio design making the scene work swimmingly. Big thanks again for Vitro, Aetna, and of course our amazing production crew.
AETNA "ANXIETY" SPOT