Miguel Alvarez Premieres Atlantic City Film
Revelator is proud to announce that Revelator director Miguel Alvarez will premiere his new film, ATLANTIC CITY, at this year's Aspen ShortsFest. The film, shot on Super16mm film, is written and directed by Alvarez. It was produced by Rachel Ecklund and Executive Produced by Revelator's Chris Ohlson and Matt Muir. It's the story of two south Texas drifters – brothers in spirit, if not blood – who come at odds when one wants to head north to look for his estranged mother. The film stars Raul Castillo and Felix Solis as the two brothers.
"All we got is right here. This. You and me. We're family."
Miguel says those two lines of dialogue sum up what ATLANTIC CITY is about – family and all its messy entanglements. Junior and Pony are homeless day laborers drifting through San Antonio, TX. "Their mutual hardship has forged a friendship as strong as brothers," Alvarez said. "But Pony is fixated by an ATLANTIC CITY postcard he carries – the last connection from his estranged mother from twenty years ago," Alvarez added.
As the film progress, we find out that Pony asks for help finding his mother, and Junior feels betrayed, causing Pony to split from his friend. Alone, and needing money to head north, Pony accepts a job from a local thug, Jimmy, who operates out of a skating rink. It's here Pony encounters a kindred spirit, a fifteen-year-old runaway girl who claims the rink as her own. When he tries to help her, things spiral out of control. ATLANTIC CITY is an expressionistic drama examining the idea of family and loss through the eyes of two friends drifting through San Antonio, Texas. There's a visual poetry to the urban life of society's underclass. Children in diapers chasing each other through alleys. The beat of sledgehammers slashing across a grey sky. Car lights flitting across dingy motel room ceilings. These are some of the small, beautiful moments that can illuminate a hard life. And these are stories that we often neglect. The drifters and runaways, the outlaws and the unwanted.
Miguel said that it's here on the fringes where the characters Junior, Pony and The Girl exist. "As a filmmaker I've long been interested in the idea of loss," Alvarez said. "Whether the loss of innocence or the loss of family, there is a powerful effect on our lives and it's these moments that interest me. I've been heavily influenced by the early works of Lynne Ramsay and Alejandro González Iñárritu, who tell emotionally realistic stories with dramatic visual flair. It's in this vein that I approached making ATLANTIC CITY," Alvarez added.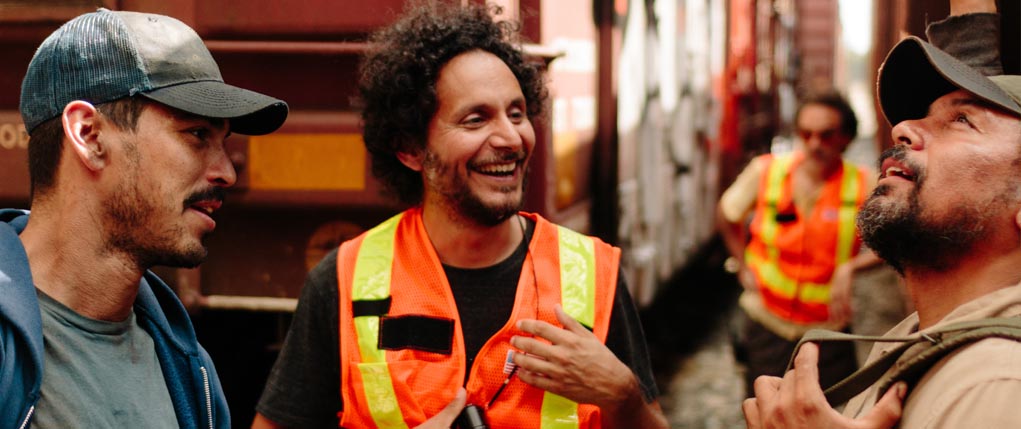 The project was shot in summer of 2016 and was a recipient of an AFS/Collaborator Grant and one of the first Kickstarter/Kodak Initiative filmmakers. The film has had a lot of support on it's way to it's festival run, so we thought we'd give a quick shout-out to the amazing cast and crew.
CAST & CREW:
Raul Castillo (Pony)
Born and raised on the Texas-Mexico border and based in New York City, Raul Castillo studied theater at Boston University's School for the Arts before making a name for himself on both stage and screen as an actor and writer. He made his feature film debut in Amexicano, which premiered at Tribeca Film Festival in 2007. Castillo followed that up with a string of roles in independent films, including Cold Weather' Don't Let Me Drown' My Best Day' The Girl, and Bless Me, Ultima. He is currently a series regular on HBO's Looking.
Felix Solis (Junior)
Felix Solis is a New York City based actor who has appeared in over 18 films including The Forgotten, Taking Chance, The International, My Soul to Take, and Gun Hill Road. His recent film performances include Man on Ledge and Arbitrage.
Solis' television episodic work includes The Following, NYC 22, Made in Jersey, Weekends at Bellvue, Criminal Minds, Army Wives, Damages, Fringe, The Sopranos, Oz, The West Wing, Third Watch, NYPD Blue and New York Undercover.
Miguel Alvarez (Writer/Director)
Austin-based filmmaker Miguel Alvarez has received awards from the Directors' Guild of America, Panavision's Emerging Filmmaker program, the National Hispanic Foundation for the Arts, the National Association of Latino Arts and Culture, and the Austin Film Society for his previous short films. He was selected as a Screenwriting Fellow for the Latino Screenwriting Project sponsored by Cinefestival and Sundance for his feature screenplay, La Perdida. He also serves as Executive Producer for Austin Film Festival's award-winning television show, On Story. Miguel holds both a BS in Mechanical Engineering and MFA in Film Production from the University of Texas at Austin where he continues to lecture.
Naiti Gamez (Director of Photography)
Naiti Gamez has worked as a cinematographer and director on award-winning films and television series. Her film credits have screened at dozens of festivals worldwide, including Festival de Cannes, Sundance, Tribeca Film Festival, Clermont-Ferrand, SXSW, Festival du Cinema de Paris, Woodstock Film Festival, Hampton's International Film Festival, Festival de Cine Internacional de Barcelona and Taos Talking Pictures. Her TV credits include HBO,Showtime, PBS, ESPN, MTV/MTV2, Discovery Channel, Animal Planet, & tuTV.
Nazanin Shirazi (Production Designer)
Nazanin is a production designer, set decorator and filmmaker who currently spends her time between Brooklyn and Austin. As a designer, her film credits have screened internationally, including Festival de Cannes, Austin Film Festival, SXSW, Tribeca, Clermont Ferrand, Chicago Latino Film Festival, and the Munich International Film Festival among dozens of others.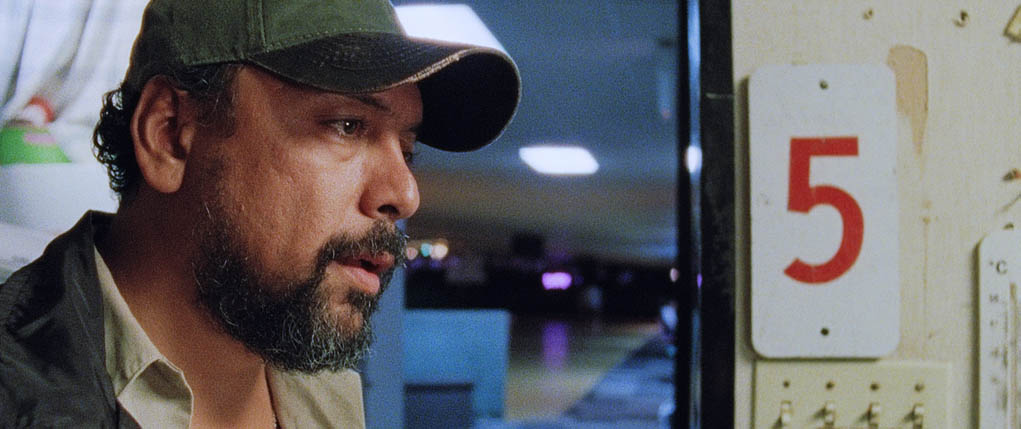 And finally, before you go, want to read a few production notes on the film? You're in luck! Congrats again to Miguel and our entire cast and crew.
PRODUCTION NOTES:
• Because of the difficulty in finding both an inexpensive skating rink and a train yard, ATLANTIC CITY was shot on location in the Texas cities of San Antonio, Austin, Bastrop, and Temple.
• ATLANTIC CITY was one of the inaugural projects chosen for the Kickstarter + Kodak Initiatve, which partially funded film stock for chosen films.
• Major influences on the story were the works of singer-songwriter Townes Van Zandt, country/punk musician Hank Williams III, and Bruce Springsteen.
• Director Miguel Alvarez makes an uncredited cameo as a coughing boxcar rider in the film.
• In order to film the tracking shots of people skating in the skating rink, director Miguel Alvarez's father retrofitted his electric mobility scooter with an extra seat for cinematographer Naiti Gámez to shoot from.
• This is the second film together for director Miguel Alvarez and Rául Castillo as well as the second film together for Alvarez and Felix Solis. It's the first together for all three of them.
• The Brazilian film Neon Bull and Alejandro González Iñárritu's first film Amorres Perros were visual influences for ATLANTIC CITY.
• The train yard location was secured for free because the train yard manager thought director Miguel Alvarez looked like one of her favorite TV characters – Sayid from Lost.