Revelator Produces New Docu-Narrative Hybrid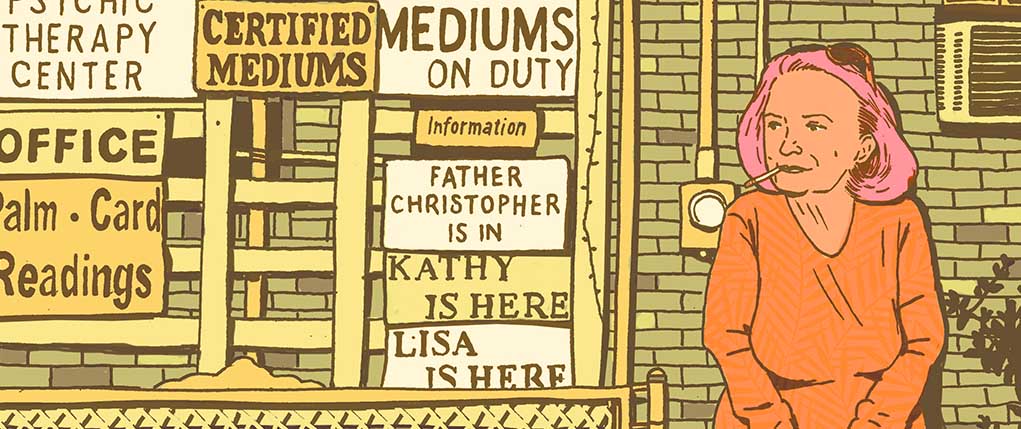 Revelator is incredibly excited to announce a fun new film project, CASSADAGA. It's a docu-narrative hybrid short film set in the Cassadaga Spiritualist Camp in central Florida— a community almost entirely made up of psychics and mediums. A new short film executive produced by Revelator is in its last week of funding on Kickstarter. The film's writer and director, Brittany Reeber, was inspired by films like Tabu by F.W Murnau and Ten by Abbas Kiarostami, and the project will combine scripted and documentary elements. Simply put, CASSADAGA is a dark comedy set against the backdrop of a wilted Florida landscape. In the film, two small town coastal women, Donna and Julianne, take a trip to Cassadaga to commune with the dead. In a town of mystics and mediums, their differing attitudes towards coincidence and spirituality guide their experience.
The Southern Cassadaga Spiritualist Camp was founded by a traveling medium in the late 1800's and is now a small community in central Florida dedicated to Spiritualism and "mediumship", or the ability to communicate with the dead. The 55 acre town is home to 55 residents, many of whom offer medium services from their living rooms and kitchens. The film incorporates interviews with members of the community. Although small, the town is divided by varying philosophies and personalities.
Director Brittany Reeber grew up in South Florida but landed in Austin, Texas to attend the University of Texas's RTF program and has been part of the Revelator family since 2014. She made her first pit stop in Cassadaga on a road trip between Texas and Florida and became fascinated with the bizarre little town. Brittany recalls: "there was something very eerie about finding a community so tied to "the dead" in the middle of Sunny Florida. When I go there I always feel the same mix of dread and intrigue. On one hand, I want to get out of there as soon as possible and on the other hand, I find it almost impossible to leave." The script draws upon this community and the people who live there in order to examine the different ways we relate to the kind of truths that you can't see or touch.
In the summer of 2017, Brittany traveled to Cassadaga with award-winning Americana documentarian, Bradley Beesley, and the pair shot research material that would lay the groundwork for the film. Now a year later, the film is crewed up with an extraordinary team, including producers Seana Flanagan, Veronica Léon and cinematographer Carmen Hilbert.
CASSADAGA received the support of the Austin Film Society and was awarded a $5,000 in-kind grant with MPS Studios, as well as a $5,000 Kodak grant. Since launching the Kickstarter on June 19th, the film has also been awarded a $1,000 pledge from the Knight Am Doc Patron Fund, a new initiative between American Documentary and the Knight Foundation. You can find a link to the project's Kickstarter HERE to learn more about the upcoming film production. Consider making a pledge today and help this promising short on it's journey.