Contactless Pickup, Contactless Production
A social distance production can be daunting. We all want to get back to work, but how do we do it safely? We thought a break-down of our recent approach might help. Like a lot of y'all, we've been working remotely as a team and have been doing the work-from-home-thing: wearing daytime pajamas, perfecting the Zoom background, and experimenting with new recipes. A lot of those recipes have been failures, and a lot of us have grown very comfortable with takeout these days. So, when GSD&M reached out to us to work on their latest Pizza Hut television broadcast commercials, highlighting their contactless options, we jumped at the opportunity. Who doesn't love pizza at your door? So let's jump in and talk about how we did it.
Our main goal was to develop a plan for a social distance production during a pandemic to make it safe for everyone involved, while maintaining the quality we strive for with every project. Our areas of focus were safety, sanitation, and social distancing, following closely with the guidelines laid out by the Texas film commission and from the joint efforts of the DGA, SAG-AFTRA, IATSE, and Teamster's Committees. Here's how we put that plan into action:
The first challenge we needed to solve was remote casting. We needed to cast a family with natural chemistry and do it all online. That meant we'd be casting specifically from the same families, to ensure everyone was in the same quarantine circle. We put out the call with the help of our casting director friend Vicky Boone. Our production company producers and director reviewed potential talent with both client and agency, all from the comfort of our homes. It made the process of selecting a cast incredibly speedy, and kept everyone on the same page throughout the process.
As we sped towards the actual day of shooting, we also enacted these safety measures:
– We shared a detailed COVID Safety Protocol Plan with the client, agency, cast, and crew ahead of the shoot to make sure everyone was on the same page and understood the steps we were taking to ensure on set safety.

– Everyone on set wore a mask and gloves at all times, except talent when on set and rolling.
– We had a nifty face shield for our HMU artist whenever close contact could not be avoided, but we asked our talent to arrive mostly camera-ready so there would be minimal contact with HMU.
– For safety, talent primarily provided their own wardrobe, any other pieces bought were sanitized thoroughly before use. If any wardrobe or HMU adjustments were needed, our crew would instruct talent to make them, only stepping in (with mask & gloves!) if necessary.
For our commercial shoot, sanitation was another huge priority, especially since we were operating with client-provided props and a picture car, both of which needed to be handed off after the production was complete. We carefully utilized Lysol wipes and made sure we had plenty of hand sanitizer available at all possible areas of the set. When every handoff occurred, we'd sanitize. That meant every time we called cut and reset, the interior of the car would be Lysol'd, all props (touched solely by our talent and art department) would be sanitized and handled with fresh gloves, and every piece of equipment and workstation left behind would be thoroughly wiped down.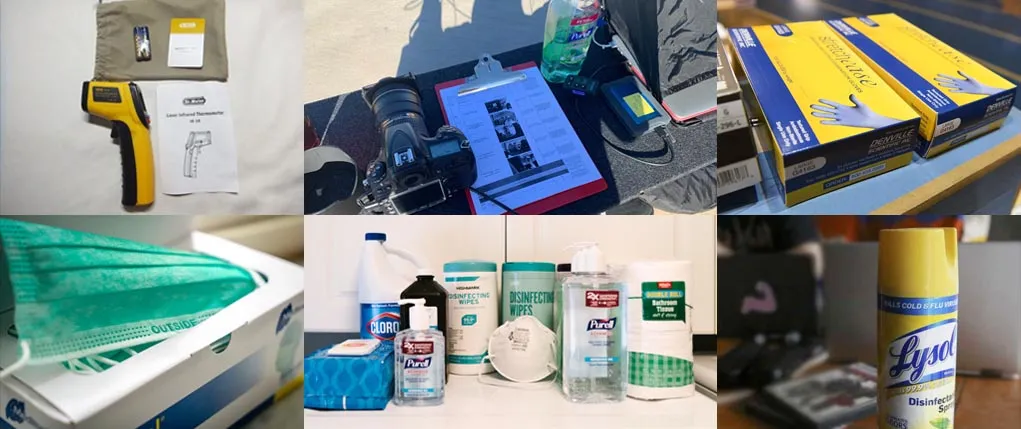 We kept our crew lean (but not mean) to make it easier to social distance. Our basecamp and shooting locations were both outdoors, which helped maintain that 6 feet apart span. We kept a small crew; one person per department. We know video village tends to be a gathering hub, so instead we kept only director Erica Silverman and director of photography Evan Burns on a small monitor, so they could design the shots to their satisfaction.
To further minimize the amount of people on set, we set up a mobile client review workstation. The station included a camera feed going directly into one laptop, and another hosting a video meeting with all key agency and brand stakeholders. This allowed producer Todd Ruhnau to communicate directly with the ad agency and client and ensure everyone was pleased with the footage we were capturing. We also had an additional mobile video feed so that client could travel around set to approve things like props, wardrobe, and Pizza Hut's specific employee protocols that we were showcasing. The power of technology!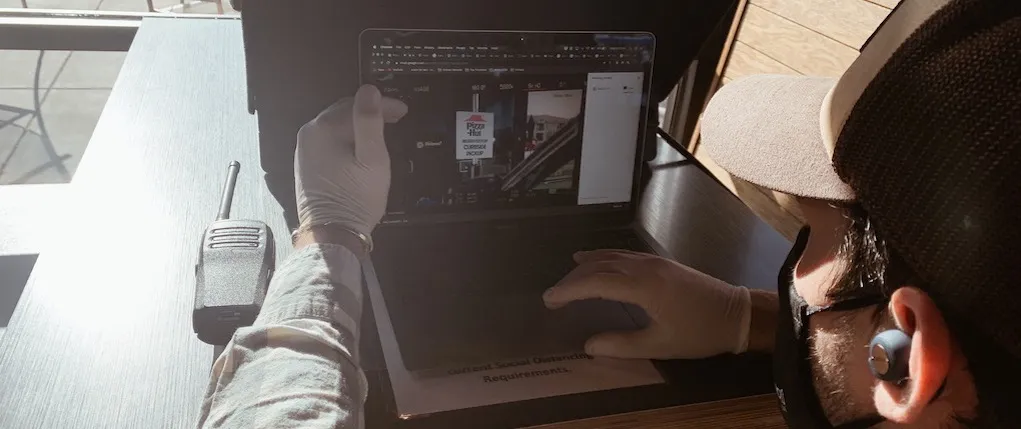 We love pizza, we love working with GSD&M, and we love solving the unique challenges that come with every production. Pandemic production has been a whole new beast, but we made a plan that kept us moving without hindering our creativity. We're pretty pleased with the results, and we hope this post helps shine a light on a process for those producing new work in the future.