Behind the Scenes of Our FÖDA Documentary

FÖDA is a special kind of company, which is why there is no short-hand to describe what they do. First, they develop brands. They also provide strategy and solve problems for their clients. But then, they design identities and entire systems. Their work can be seen around the world, from Queensland, to Seattle, and even just down the street, here in Austin. So, saying FÖDA is just a design studio is a bit of a misnomer. They are unique, tasteful, innovative, and they're kind of reinventing what a design studio does. When you have a chance to profile company like that, you take advantage of it. We've also known the stunningly kind and creative people at FÖDA for a long time, so we basically didn't have a choice anyway…we just love them too much. But enough of the mushy stuff, let's get into the behind-the-scenes approach to our documentary about FÖDA.
The number of different disciplines, types of research, and levels of input FÖDA has with their clients is rare. So to call them something like a "brand consultancy" or a "graphic design shop" is doing a little bit of a disservice. They research and consult on brand, ethnography, naming, positioning, and design. And what always floors us is the research. In their own words… "In the absence of contextual information, design and strategy relies wholly on inspiration; unlikely to elicit change, doubtful to prove an advantage. Research—knowing—creates advantages."
So, in honor of FÖDA, we wanted to research our friends and their approach, to truly know what FÖDA is. This meant multiple interview sessions and hours of recorded research with the FÖDA Founder and Creative Director, Jett Butler. Jett was kind enough to describe the FÖDA process and approach, and revisit every asinine question we had about clients, fieldwork and neon sign fabrication.
When we were preparing our approach for the FÖDA piece, one concern was falling back into a "greatest hits model." It's easy to see FÖDA's work. Heck, just a short drive through Austin and you'll see their work for Perla's, Violet Crown, and South Congress Hotel. Their website is chock-full of the their client's new brand identity packaging and FÖDA's tasteful design choices…but that really wouldn't tell you what they do. We wanted to find out what leads to the engaging choices. We wanted to learn about their process. We guess it's maybe because they make it look too easy?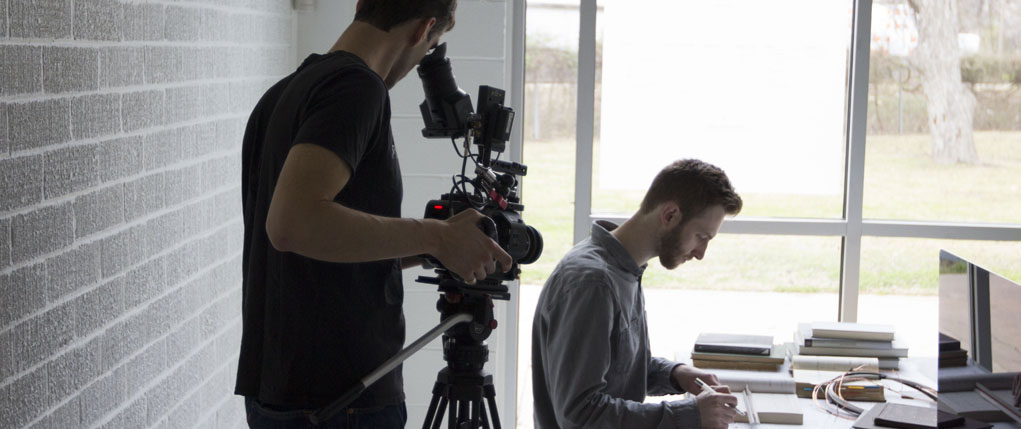 Director of Photography Drew Xanthopoulos at FÖDA
Thankfully Jett was gracious enough to open up about their research, studio work flow, strategy, and dare we say…philosophy? But that line of questioning can get a little bogged down and pretentious, so we wanted to make sure we were able to convey the process. We wanted to make sure we showed the work, not just the final product. FÖDA's diverse set of disciplines…from hand-drawing, to modeling, to yes, maybe even a little work on a computer, help them create the breadth of work you see in their portfolio. But the most interesting thing to us, is how FÖDA's finished work gets to that portfolio. So we prodded and poked FÖDA, and they were patient and thoughtful enough to let us follow that process.
Director of Photography on this project, Drew Xanthopoulos, was able to capture FÖDA's process with his usual keen eye for creative detail, intimate framing, and use of natural light. He also pushed for a cinematic look for the FÖDA story, by utilizing anamorphic aspect ration and shooting on his personal set of beautiful vintage Zeiss lenses. Music was also a special creative collaboration on the FÖDA story. We were able to cajole FÖDA front-man Jett Butler into joining us in the studio with our composer James Jones of Jones-Sound. Jett was gracious enough to record guitar, generative synthesizer and loops in his collaboration with James to create an atmospheric score that is a fitting compliment to the film's aesthetic.
We really valued these creative collaborations, along with the chance to shoot FÖDA's incredible team in their beautiful office and in the stunning places they have shaped. Let's just say the nice folks at FÖDA helped make this project very easy on their friends at Revelator. So, share the video with your fellow design-nerds, and enjoy a behind-the-scenes peak of the project below: