FRONT Project Premieres at Rock & Roll Hall of Fame

We couldn't be more excited to premiere this full-length version of our recent project, which is showcased at the Rock & Roll Hall of Fame, and directed by our own Jonn Herschend. The live-action piece premiered in conjunction with FRONT International's Cleveland Triennial for Contemporary Art. Herschend, who was commissioned to create a film for the Triennial, decided to make a theme song and music video for Cleveland & Akron. He reached out to his long-time collaborator, the Emmy-winning composer Silas Hite, to work on the music and together they assembled the lyrics based on a survey that sent out to the citizens of Northeast Ohio. The film, which was shot in locations throughout Cleveland and Akron, celebrates local step dance teams, high school marching bands, Zumba dancers, Roller Derby Girls, and fans of the Northeast Ohio region. Produced by Chris Ohlson, and shot by Drew Xanthopoulos, the project will run at the Rock & Roll Hall of Fame until Sept. 30th.
The project and FRONT are already getting some flattering attention from the likes of The Wall Street Journal and The New York Times, which detail the latest piece and FRONT's push for Cleveland to become a new hub for contemporary art through their up-and-coming exhibition.
Let's take a quick step back for little background. A couple of months ago, the Revelator team packed our bags and got on a plane to Cleveland, Ohio to make this unique music video for the contemporary art exhibition. "In our research about the region we discovered that there is an incredible love for both Cleveland and Akron that I hadn't encountered with any other city," says Herschend. "Sure people love Chicago or New York or Austin, but in Northeast Ohio it's a visceral feeling. There are even T-shirts all over the place that say things like 'Cleveland v. the World.' Maybe it's that long-suffering feeling due to the winters. But we knew that we had to try and capture this feeling." In doing so they teamed up with a community college and local musicians to record the song. Herschend tracked down a women's roller derby team and decided to use their hockey arena as the backdrop for the dancing. They drove around the area, and hit up some of Cleveland and Akron's most iconic sites in order to create one of the most spirited projects we've made to date.
It was also a real pleasure to work with FRONT, an art triennial that aims to explore many difficult social, political, cultural, and economic themes through art. According to FRONT, the citywide art program will bring together international, national and regional artists, curators and scholars to propose a new format for biennials and triennials. It focuses on process, research, collaboration and long-term engagement with Cleveland and Northeast Ohio to provide an expansive stage to create and share new work that is inspired by and engaged with the social, political, cultural, ecological and economic issues of our time. These themes and ideas explored by the participants will revolve around the history and the current realities of Cleveland that serve as examples of a midsize American city in this modern time. FRONT says they see museums and exhibitions as places for a nuanced conversation about the difficult issues and concerns in society, away from the perhaps comforting but also reductive way of absolute thinking that is so destructive. The program feels the need to address complexities and diversity of thought within the spectrum of institutions that address the state of the world around us.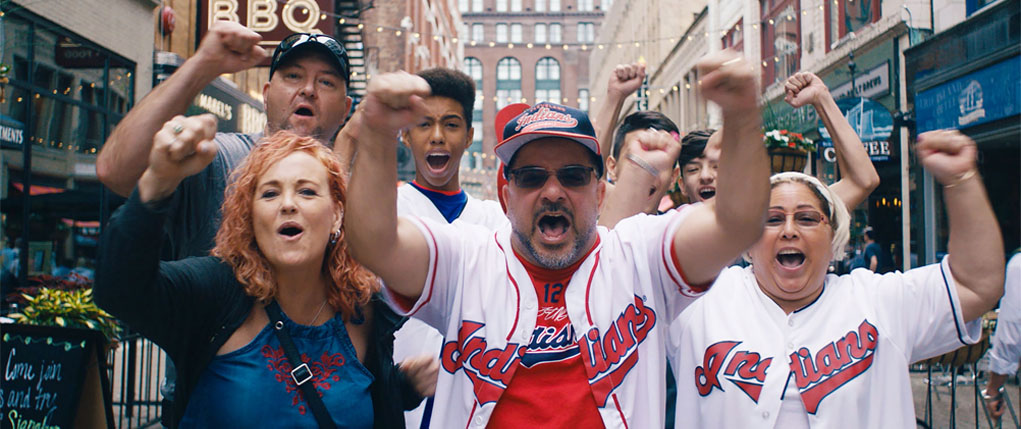 When planning the logistics for this video, it was really important that everything would capture the spirit of the region. So Herschend and producer Chris Ohlson worked together to handpick iconic locations and participants. "We discovered that marching bands are major deal in Cleveland," says Herschend. "So Chris and I knew we had to find the right marching band, which we did with Shaw High School." Herschend also wanted local Zumba dancers and Step Dancers to be featured in the film to capture the energy and celebrate the region. They found locations around the cities and asked local citizens to participate in the chorus, chanting O-H-I-O. And the effect worked: Air guitars were strummed, roller skates skidded, and feet stomped to the beat in this giant party for Ohio. "It was really important to me that this piece not be ironic. It needed to really feel legit and capture the spirit of the region," says Herschend. "In contemporary art, there are very few works that are simply a celebration. There's a fear that it will be misconstrued as lacking depth. But I there is a real depth to the people of the Northeast Ohio region and a complexity that I wanted to figure out how to tap into in a short amount of time. The music video format felt like the right vehicle to explore this feeling. And I knew that if I could create the right environment for this beautiful chaos, that I could turn Drew Xanthopoulos (our DP for this project) lose and that something authentic would just leak through his lens."
Kinetic, fun, and authentic are just a few words we could use to describe the visual look Director of Photography Drew Xanthopoulos created for this project. Going along with the welcoming song lyrics, Xanthopoulos used natural light and a versatile hand-held approach to add to the location-specific feel of the piece. The video features Ohioans themselves celebrating their city in some of Cleveland's most famous spots. From the West Side Market to the Akron Art Museum to the infamous 4th street, the portraits and driving shots gave us an opportunity to showcase our favorite aspects of Ohio. Vibrant energy, choreography and camera movement helps honor our local natives and their music. People of all ages, ethnicities, and background came together to celebrate and represent the diverse state of Ohio. Don't forget to checkout Jonn Herschend's music video at FRONT's art triennial July 14 – September 30; where everyone, Ohioans or not, can celebrate the wonderful state that is Ohio.