Honoring the Harry Ransom Center's Film Collection
Ask any self-respecting film nerd if they'd like the chance to get up close and personal with some of the most iconic artifacts from film history and they'd go for it. (We're talking about Robert de Niro's annotated scripts from Taxi Driver, Goodfellas, Raging Bull, original scripts and storyboards from Alfred Hitchcock movies like Notorious and North by Northwest and countless others). Well, we're no different.
So when the team at UT's Harry Ransom Center approached us to create the promotional material for their upcoming Gala, we jumped at the chance.  A Celebration of Film, a gala event held at the AT&T Hotel and Conference Center, shines a spotlight on the Harry Ransom Center at the University of Texas at Austin and its 65th anniversary. The celebration in particular is an appreciation of a new endowment called the De Niro Curator of Film.
"It is a privilege to welcome Robert De Niro, a great friend of the Ransom Center and ardent supporter of the arts, to Austin as we celebrate 65 years of archiving important American cultural history," said Harry Ransom Center Director Stephen Enniss. "This endowment will support the ongoing work to preserve film history and inspire the next generation of filmmakers."
The Harry Ransom Center is an archive that houses the collections of artisans across disciplines, from writers, artists, directors, actors, and more. Located on UT Austin's campus and open to the public, it's a treasure trove of history, with the mission of making the creative process and larger-than-life creatives feel accessible through their materials.
Our goal with their promotional material was to bring that mission to the forefront. We worked with the Center to develop a creative strategy for the video project. We wanted to highlight that there are iconic moments and touchstones from throughout cinema history that are available for anyone to learn from, right in the heart of Austin.
Working on this was a reminder of the wonder that cinema can hold. You could really see how these moments from classic movies came to life, from handwritten script changes or notes scribbled on a page, and imagine the titans behind them like Martin Scorsese, Alfred Hitchcock, Cary Grant, and Meryl Streep as just regular people (okay, maybe Meryl still transcends "regular person") trying to figure out how to tell a story and put it up on screen.
The Gala was also a touching opportunity hear learn more about the relationship of De Niro and Streep, which she outlined in her tribute to him.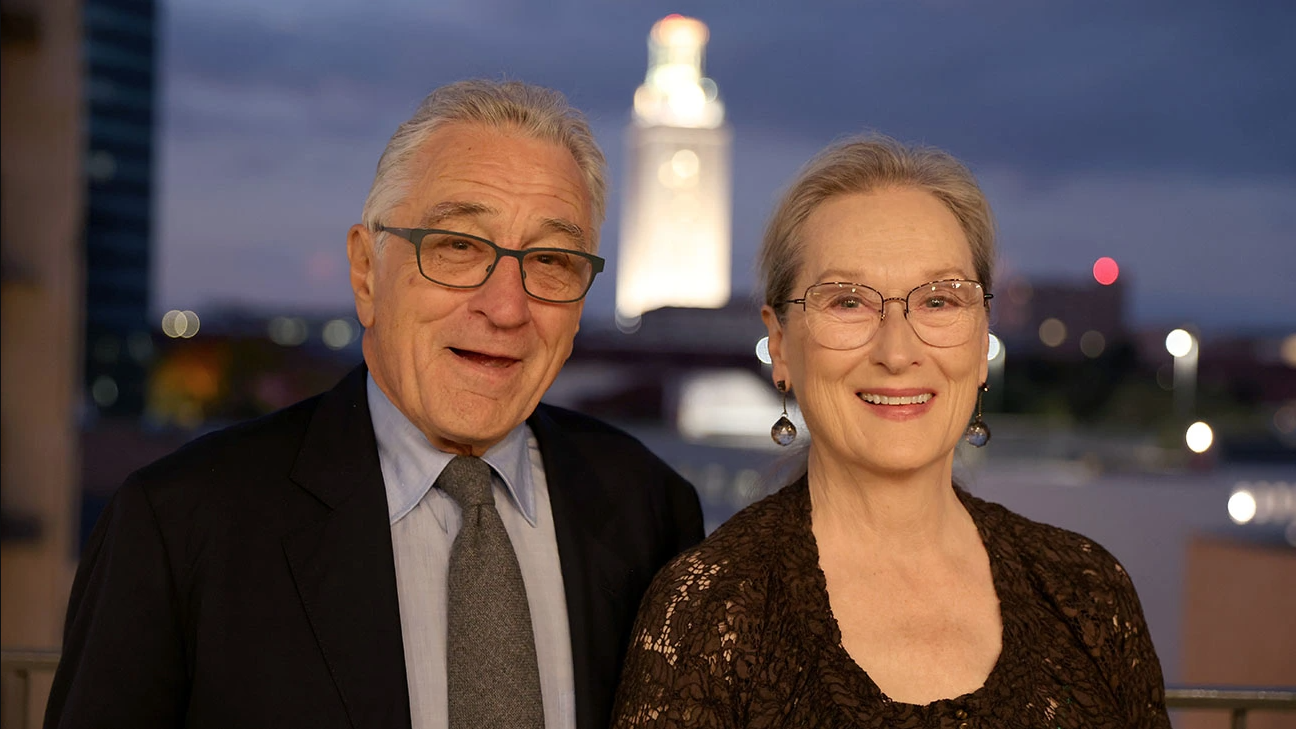 Robert De Niro and Meryl Streep at the "Celebration of Film" Gala

"Over the years, people have always said to me, 'What actress do you most admire? What actress' career would you like to emulate?'" Streep said, adding that she has a long list of women she reveres including Geraldine Page, Colleen Dewhurst, Vanessa Redgrave, Maggie Smith, Carole Lombard and Barbara Stanwyck. "But, really, the second time I saw Robert De Niro, I said to myself, that's the kind of actor I wanna be. That's what I wanna do. And I wanna do it with the commitment and the passion and the skill and the beauty with which he applies to it. And he's been my beacon for 50 years."

Two months later, Streep and friends were seated to check out Martin Scorsese's newest movie, Mean Streets. "And there's the guy, there's the same kid," Streep recalled. "And only he's not slow. He's not Southern. He's a New York punk. He's absolutely mean, this fast-talking street smart guy and we were blown away. We scoured the credits and saw his name. I said, 'Oh my God.' He's Italian. He's Robert De Niro. He's an actor. And it really blew me away."

We're just a lowly production company, but we were truly honored to work on this project. We're a storytelling company that comes from a film background. Any collection that encourages film research and education is a dream for us. We hope watching this video gives just a taste of all that the Ransom Center has to offer. It's open and available to the community, so go visit today.

And yes, we all geeked out when the jacket from Taxi Driver came to set.