That Time I Was on Late Night with Jimmy Fallon
Our latest blog entry is the first in a series of first-person accounts from the Revelator staff. Today's entry is a behind-the-scenes nugget about late night comedy television with Revelator's very own Production Coordinator, Hannah Murphy: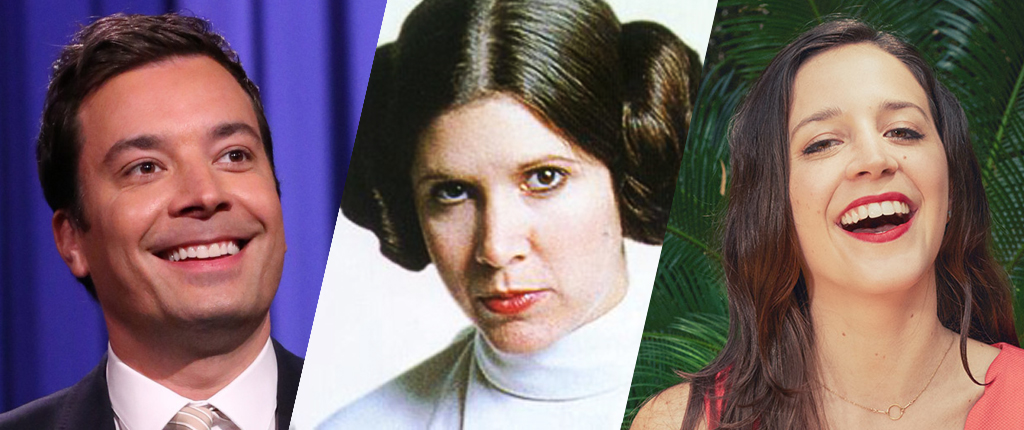 Have you ever been told by one famous person that you look like another famous person? Jimmy Fallon once told me that I looked like Rashida Jones. I was baffled. Not only because Jimmy Fallon was talking to me, but also because I am fully aware that I look nothing like Rashida Jones. How did I find myself in this situation to begin with? To answer that- I have to tell you about the first time I was on late night TV.
It was 2011- I was in my third year at NYU, and life couldn't be better. I lived in New York City, I had just cut off all my hair on a whim, and I had the coolest internship ever. I was working at Late Night with Jimmy Fallon! Two days a week I got to waltz into the famous 30 Rock building and spend the day amongst some of the funniest people in TV. I was assisting the script department, which meant I was running scripts to different parts of the office, attending rehearsals, and hanging out with the cue card guys as they copied the sketches onto thick cardstock pages.
One day, while on my distribution rounds, one of the more intimidating writers stopped me as I was leaving his office. "Hey Hannah," he called. I was immediately nervous. Normally, he referred to me as "NYU" so the fact that he was using my name, let alone my actual name, pointed to this being something serious. "What are you doing on Wednesday?" I began mumbling some response about class and needing to write a paper. He cut me off with a simple "fuck class." He explained that he might need me for a comedic bit on the show, so I should make myself available for taping that Wednesday. Of course I said yes, no questions asked. Although I had a pretty good idea of what it was for…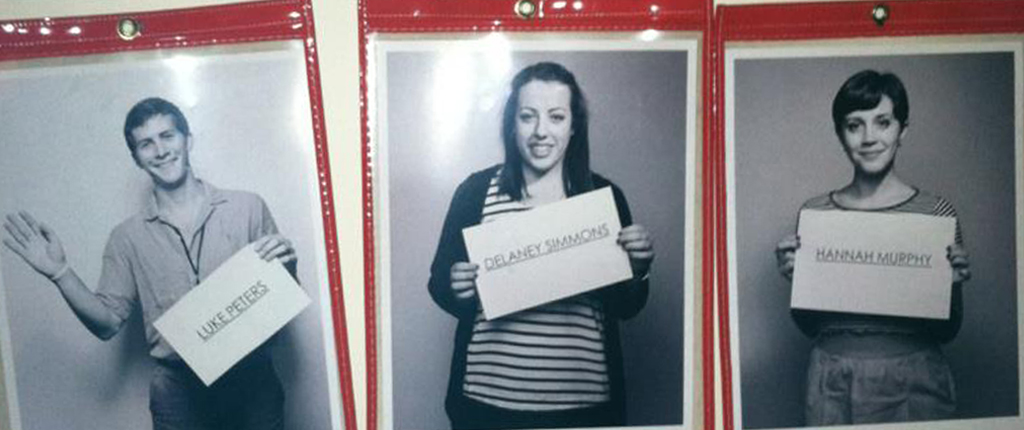 You see, there was a wall in the office called "the intern wall." It was covered in pictures of our shining, enthusiastic faces holding pieces of paper with our names on them. The point was to help the many employees learn our names, but everyone knew the writers sometimes used it as inspiration for a skit called "Audience Suggestion Box." In the skit, Jimmy would respond to made up suggestions from the audience. One suggestion was always "Jimmy, can you find someone in the audience who looks like a combination of this person and this person?" It was always a silly combination, and they always had a planted extra in the audience, ready to be compared to their supposed doppelgangers. And now it was my chance to be that planted extra! I was bursting with excitement. But then it hit me- who were my doppelgangers?!
My mind raced to all the worst possible options- I had short cropped hair, so would they compare me to a boy? Worse, would they compare me to the checkered overall wearing mascot of Big Boy restaurants (wouldn't be the first time)?! I started to regret agreeing to something I had so little information about. I showed up that Wednesday with trepidation. Someone from graphics called me over to see the pictures they'd be placing next to my face. To my relief, my selected doppelgangers ended up being something I still brag about to this day.
That's right! I, Hannah Murphy, was a combination of Rachel Maddow and Princess Leia. An attractive and intelligent pair, I must say. I enjoyed my 15 minutes of fame, which included many congratulatory words from co-workers that week. Even the big guy himself, Jimmy Fallon, stopped by my desk to say I'd done a good job and that he thought I looked a bit like Rashida Jones. Which, I'm sorry Jimmy, is just not true.
When my 15 minutes were over, I went back to being just a regular intern. I wondered if I'd ever get an opportunity like that again. Little did I know I'd have a very similar experience exactly one year later. Check back…that story is on its way to the blog very soon!
-Hannah Murphy
Production Coordinator, Revelator
———
ABOUT REVELATOR: Revelator is a full service film & video production company in Austin, Texas. We like to write, produce, & edit projects for t.v. and the web. We specialize in brand films, corporate identity work, as well digital advertising and t.v. broadcast advertising. If you need help with your script, production, or just an idea, give us a call.
REVELATOR SERVICES: Video Production, TV Commercials, Brand Films, Virtual Reality, VR Experiences, Script Writing, Music Videos, Lifestyle Videos, Technology Videos, B2B Videos, Product Videos, Feature Films, Motion Graphic Videos, Turnkey Solutions, and Live Event Video Production.