"Meet the Filmmakers" Q&A: Director Bryan Poyser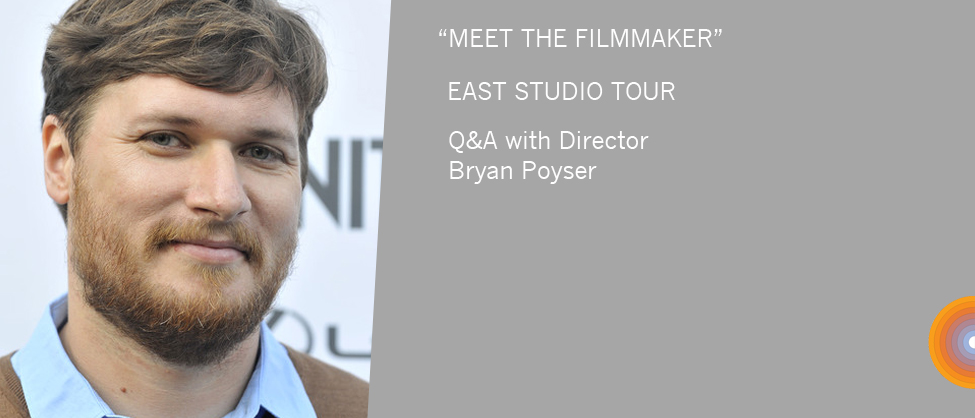 Bryan Poyser's "Lovers of Hate" premiered in the US Dramatic Competition at the 2010 Sundance Film Festival, was a John Cassavetes Award nominee at the 2011 Independent Spirit Awards, and was released by IFC Films. He was also nominated for FIND's "Someone to Watch" Award for his feature, "Dear Pillow". His romantic comedy feature, "Love & Air Sex," (SXSW premiere 2013) was released by Tribeca Films this year. Bryan lives and works in Austin, Texas.
Q: What led you to filmmaking?
A: The thing that led me to filmmaking was actually making a really bad film. In my senior year in high school I made a wretched vampire movie, shot on VHS, starring my classmates. It was horribly pretentious but it was the most creatively absorbing creative experience I had ever had. I spent hours and hours in the A/V room at my school, editing it tape-to-tape. No one will ever see it again, but it put me on the path to being a filmmaker. Hopefully I've improved.

Q: As a filmmaker, why do you choose to live in Austin?
A: I moved here in 1993, in the wake of Richard Linklater and Robert Rodriguez bursting on the scene. Already it felt like something special was happening here. And, it's just become even more vibrant since then. Whenever I reflect on how many incredibly talented and recognized filmmaker-friends live in this town, it's kind of unbelievable.
Q: Your films take a frank and very funny look at the sex-lives of their characters. What draws you to that subject matter?
A: I guess maybe I'm just perverted?
Or, my interest in depictions of sexuality comes from a frustration with how Hollywood movies depict it. Most of those movies don't present sex in any way that feels authentic to me. Some independent filmmakers do, definitely foreign films do, but I feel like there's more room to present sex in a way that explores the character's lives, rather than just giving an audience an opportunity to voyeuristically watch beautiful actors pretend to have sex.

Still courtesy of "Love & Air Sex"
Q: Your latest film, "Love & Air Sex," has a couple of pretty elaborate Air Sex competition scenes. Did you choreograph the Air Sex yourself, or is Air Sex choreography something a director leaves to the actors?
A: It was about half-and-half. Since it was such an important part of the movie, and a totally ridiculous one at that, we kind of avoided figuring out what the performances were going to be, until the last minute. I met up with them in their respective hotel rooms and we worked out a couple things, but they had to just kind of wing it on the day. But I couldn't be happier with what they came up with.
Q: You've been directing films for several years now. How has the process of creating an independent film changed over the last 10 years?
A: It's definitely gotten a lot easier, and cheaper, to make films look pretty. It's incredible how affordable cameras have gotten that can shoot very high-quality HD images. And, if you told me, back in the 90's when I was at the UT film school where I was learning how to cut and tape 16mm film and how to transfer sound recorded on 1/4″ tape to magnetic stock, that in 10 years I was going to have literally all the post-production tools you need to finish a movie on a single laptop computer, I wouldn't believe you.
Of course, all the other things about filmmaking – fundraising, casting, distribution, etc – those are all still just as hard. There's no software that can get Brad Pitt to star in your movie. Yet.
Q: Your films always have unique and interesting dialogue. How much of that is in place and how much do you encourage improvisation?
A: It changes from movie to movie. On my first one, DEAR PILLOW, there was a lot of improvisation. I would even steal the scripts from the actors on the set, forcing them to put the dialogue into their own words. On my second, LOVERS OF HATE, there was very little improv, partly because it was more tightly plotted and certain things needed to be communicated to the audience at certain times. It also depends on the actors. In LOVE & AIR SEX, Zach Cregger, who comes from a sketch comedy background, came up with some amazing ad-libs, whereas the other actors kept closer to the script.

Still courtesy of "Love & Air Sex"
Q: You seem to flip back and forth from short films to features. Is that a conscious thing? What do you like about short films that you can't do in features?
A: Absolutely. I hope to continue to do at least one short in between features. It's great to do something quick and simple in between the movies that take a loooong time to get going and a loooong time to finish. You can pull the trigger on a short so much more easily than a feature. And you can try things that would never work in a feature. My short THE FICKLE is basically a single unbroken 5-minute Steadicam shot, involving 13 different actors. I wouldn't dream of attempting something like that in a feature.
Q: What other filmmaker or films would be a good introduction for viewers before they watch your films?
A: Good question. Going backwards, some of the movies I watched in gearing up to LOVE & AIR SEX were ANNIE HALL, THE 40-YEAR-OLD VIRGIN and WHEN HARRY MET SALLY. For LOVERS OF HATE weirdly enough I was watching a lot of Brian DePalma's early films like SISTERS and PHANTOM OF THE PARADISE. And for DEAR PILLOW I was influenced by two Canadian filmmakers – Atom Egoyan and David Cronenberg. I also re-read for the 4th time this book Cassavetes on Cassavetes and tried to absorb as much of his philosophy of directing that I could.
Q: What are you working on now?
A: Right now I'm gearing up to make a short in January that's going to star Zach Cregger from LOVE & AIR SEX. It'll hopefully be my "in-between" short, as I'm hoping to shoot a feature called TRI in the summer. That one's about estranged sisters who start competing against each other in triathlons. Then I've got a "winter feature," a dysfunctional-family comedy-drama set mostly in Mexico.
Q: Finally, one very practical question…what's in Bryan Poyser's Netflix queue right now?
A: Recently my wife & I watched THE NIGHTMARE BEFORE CHRISTMAS, on Halloween, naturally. Ones that have been on my list for a long time but I haven't gotten to are FISH TANK, CHE, AI WEI WEI: NEVER SORRY and ENTER THE VOID but I'm probably going to watch the new season of PORTLANDIA before anything.
———
ABOUT REVELATOR: Revelator is a full service film & video production company in Austin, Texas. We like to write, produce, & edit projects for t.v. and the web. We specialize in brand films, corporate identity work, as well digital advertising and t.v. broadcast advertising. If you need help with your script, production, or just an idea, give us a call.
REVELATOR SERVICES: Video Production, TV Commercials, Brand Films, Virtual Reality, VR Experiences, Script Writing, Music Videos, Lifestyle Videos, Technology Videos, B2B Videos, Product Videos, Feature Films, Motion Graphic Videos, Turnkey Solutions, and Live Event Video Production.