"Mr. Roosevelt" Premieres on Netflix

We're super-excited to announce that our cinematic ode to Austin, "Mr. Roosevelt" is now streaming on Netflix! After an incredible hometown premiere and successful national theatrical run for our Audience-Award winning (SXSW) film, we're thrilled to share the news that your queue can now include our film.
The film stars writer/director Noël Wells and was produced with our friends at Beachside Films, who all created an incredibly powerful team that helped us bring this personal film to life. The pic's theatrical run went nationwide in November, with openings in Los Angeles, New York and multiple cities across the nation! After you watch the trailer above you can visit Netflix via any streaming device your heart desires. Add it to your watch list, or better yet, stream it tonight!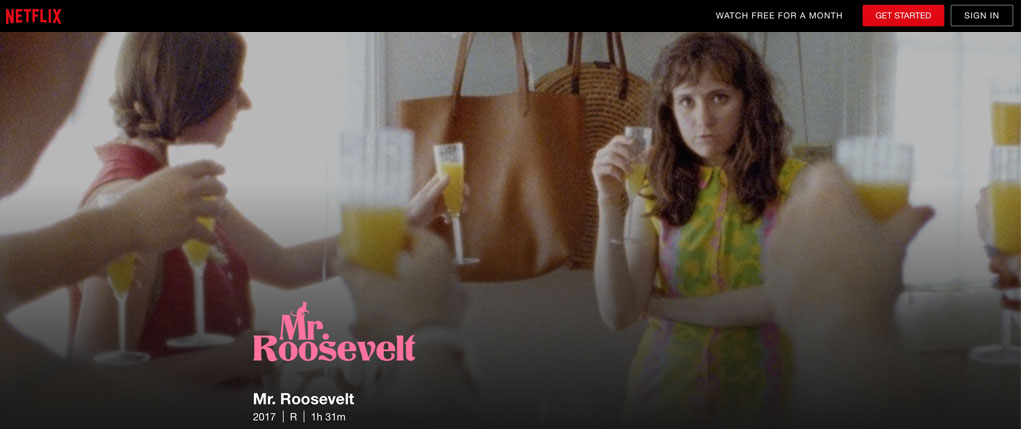 Wells plays Emily, a talented but hard-to-classify comedic performer who left behind her home and boyfriend to pursue career opportunities in L.A. When a loved one falls ill, she rushes back to Austin where she's forced to stay with her ex-boyfriend and his new-and-improved girlfriend, a totally together woman with a five-year plan. She is forced to question everyone's values: are they sell-outs or have they just figured out what makes them happy? And is she following her dreams or is she just a self-absorbed loser? Nick Thune, Britt Lower, Daniella Pineda and Andre Hyland also co-star in the hometown comedy. Beachside's Michael B. Clark and Alex Turtletaub produced with Revelator's own Chris Ohlson, with Wells as a co-producer.
We'd like to thank our amazing cast and crew one more time for helping us share this personal film with the world (ON FILM!) And, as always, be sure to check back for more video production and film news from Revelator very soon! Oh, and here's that beautiful poster one more time: