Mr. Roosevelt Acquired for Fall Theatrical Release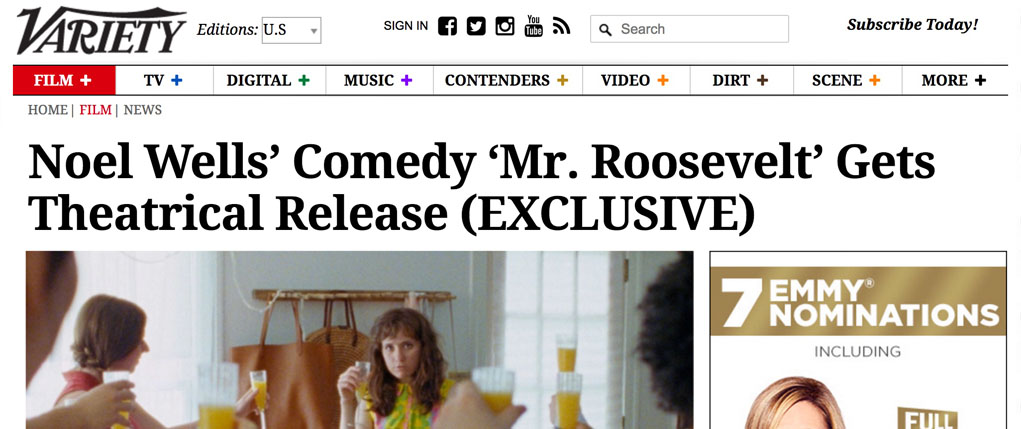 Variety picked up on some great news this morning! We are thrilled to announce that the theatrical rights for our film Mr. Roosevelt have been acquired by Paladin, for a theatrical run this fall. In a separate deal, the film will be available on Netflix after our theatrical run. Revelator produced the film with the team at Beachside Films and Sleepy Sheep, who all helped bring the movie to life this past year. The film premiered to great acclaim at the 2017 SXSW Film Festival, where it won the Audience Award in Narrative Spotlight and the Louis Black Lone Star Award, and has continued to attention on the festival circuit, most recently at Michael Moore's Traverse City Film Festival, where it won the Founders Prize for Best US Fiction Film.
Paladin president Mark Urman says, "everything about MR. ROOSEVELT—its cleverly crafted story, complicated characters, terrific performances, hilarious set-pieces, and inventive visuals–prove that Noel Wells is a gifted filmmaker with a strong and original voice. She's also a true leading lady. This is American independent film at its freshest and finest and I'm thrilled to be working with her and Beachside to bring it to theaters."
In response to the launch, Wells commented, "My dream was always to have this movie play in theaters for audiences who could enjoy it and laugh together, and I'm so excited it will have that chance. And having it land at Netflix afterward is truly the best of both worlds."
"I couldn't be happier that Mr Roosevelt is going to be seen in a theatrical setting by so many people," says Revelator's Chris Ohlson. "We set out to make a funny, entertaining, personal film — and we did just that.  Now that we get to share it with the world in a real way, it's fantastic!"
Mr. Roosevelt is the directorial debut of Noël Wells, an actor, writer and director from San Antonio, Texas. After graduating from the University of Texas, Wells joined a house sketch team at the Upright Citizens Brigade in LA and was subsequently cast as a featured player on Saturday Night Live. Recently she also had a starring role in Netflix's hit show Master of None and appeared alongside Jessica Williams in Sundance-darling The Incredible Jessica James.
The film follows struggling LA-based comedian Emily Martin, played by Wells, as she returns to Austin after a death in her family.  There she finds herself in the awkward position of staying with her ex and his new girlfriend, until the funeral, while trying to close old doors from her past.  Co-starring Nick Thune, Britt Lower, Daniella Pineda, and Andre Hyland, the film was shot on film, in Austin, Texas.