South-by-South-Wich: A Guide to the Best Sandwiches in Austin
It's no surprise that Austin is a taco hot-bed, but underneath the limelight of the almighty taco lies the Austin sandwich. We think an Austin sammie can be just as good, and dare we say….sometimes better. So we're throwing conventional wisdom out the window, giving the taco battle with Ol' San Antone a break, and using SXSW as the perfect time to explore the underrated sandwiches of Austin.
Our city has a massive amount of restaurants to choose from, and the process of picking where to eat can sometimes result in losing a few hairs. But worry no more, Revelator makes getting lunch at SXSW a bit easier by providing a list of the best sandwiches in Austin. So, let's give tacos a break this Southby, and maybe our mayor will chill out and quit embarrassing us.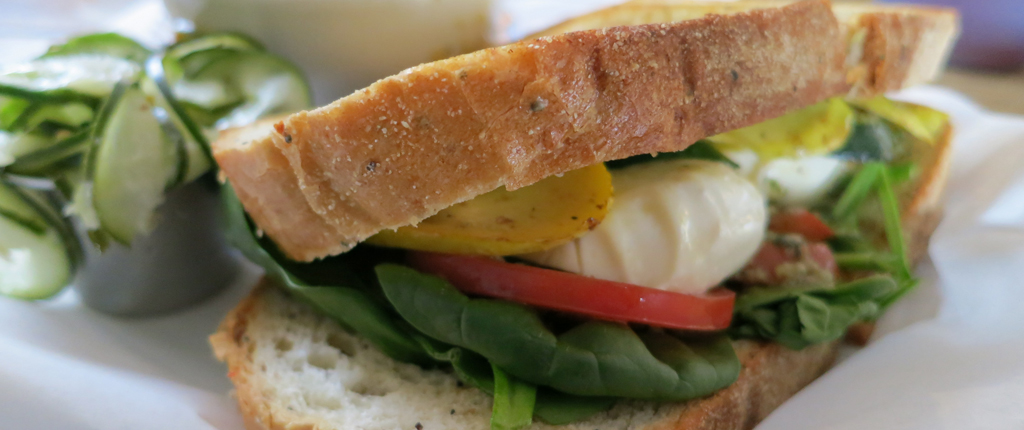 Photo via lifewithasideoflindsay
1) FOOD HEADS
616 W. 34th Street
GRILLED SQUASH SANDWICH
This homey Central Austin café features delicious breakfast items, salads, and soups in addition to their creative sandwich offerings. The delightful "Grilled Squash" is grilled and served on toasted multi-grain bread with spinach, tomato, basil pesto, and blackberry balsamic vinaigrette. Choose a specialty sandwich or make your own with cold cuts that are 100% free of any antibiotics, hormones, or nitrates. Warning: this home-like environment may bring back nostalgic memories of your childhood, but with better sandwiches.
2) GOURMAND'S
2316 Webberville Rd
THE HANNIBAL
Located in an old Tejano nightclub, this unpretentious, reasonably priced eatery serves hearty, satisfying pub fare (try a selection from the menus "Fat Sandwiches") made from scratch along with an amazing selection of draft beers. The beautiful "Hannibal" has ham, turkey, bacon, swiss, and spicy creole mustard. Their menu also consists of edible bread bowls; not only can you clean your plate, you can eat it too.
3) LITTLE DELI & PIZZERIA
7101 Woodrow Ave, Austin, TX 78757
GOURMET ITALIAN SUB
This locally owned and operated restaurant serves northeastern style deli sandwiches and pizza. If you're not feeling a sandwich, or just naturally indecisive, this is a great place to check out. The "Gourmet Italian Sub" has thinly sliced Prosciutto di Parma, ham, hot coppa, provolone, onions, tomatoes, shredded lettuce, red wine vinegar (!) and too much too list. Apart from sandwiches and pizza, their menu consists of salads, soups, and desserts. Their fresh baked breads, artisan-styled dishes, and delectable desert options make it an Easterner's food heaven in Austin.
4) NOBLE SANDWICH CO.
4805 Burnet Rd, Austin, TX 78756
12233 Ranch Rd 620 N #105, Austin, TX 78750
THE NOBLE PIG (Obvs)
High-quality ingredients, and a crafted approach to providing great food to Austinites is what Noble Sandwich Co. is all about. "The Noble Pig" sandwich honors it's name with spicy ham, pulled pork, spicy mustard, provolone, mayo and of course…bacon. The two locations are known for their distinct and delicious breakfast and lunch sandwiches they offer. If you have some down time during SXSW on March 17, make sure to drop by to attend their Saint Patty's Day Hog Roast!
5) FRICANO'S DELI
2405 Nueces Street
THE MADISON
Get some New York style food right in the heart of Texas. This NYC style deli near The Drag on West Campus serves a variety of sandwiches, beer, wine, and daily specials. "The Madison" has fresh mozzarella, tomato, basil leaves and homemade pesto, with avocado on your choice of bread, grilled to perfection. Your fresh-made sandwich can also be enjoyed on the comfortable patio provided. Make sure to check out their weekday specials when you go grab a drink during happy hour.
6) HAYMAKER
2310 Manor Rd
NUTTY GRILLED CHEESE
After a long day of SXSW-ing, wind down with a draft beer and a fulfilling nontraditional sandwich. Like the "Nutty Grilled Cheese," with pecans, grand cru gruyere, sliced apples and mixed greens. With a large outdoor patio and a constant stream of live sporting events, this Cherrywood restaurant and bar features a number of delicious sandwiches, burgers, and a large selection of craft beers to wash it all down. Their unique open-style sandwiches are not to be missed!
7) AUSTIN DAILY PRESS
1900 E Martin Luther King Jr Blvd
THE EDWARD
Located at the intersection of MLK and Chicon, this endearing little eatery provides a selection of creative sandwiches and salads in a picnic-type setting. Not feeling a sandwich? Mix things up and try it in torta form! Like the "The Edward," which combines an edamame fritter, ginger peanut sauce, avocado, pickled peppers, onion, cilantro and mint into the form of a torta, salad or a (gasp) taco. We guess maybe it's inevitable. Fellow beer lovers, make sure to mark Friday down in your calendar. Because it's not just any Friday, it's Free Beer Friday.
Think we missed one? Let us know, or better yet, check out more opinions from some local experts. Either way, always remember, a free SXSW taco is usually worth the price. So bookmark this page, stretch out your stomach and enjoy sandwiching our recommendations between your favorite bands and films at SXSW!
———
ABOUT REVELATOR: Revelator is a full service film & video production company in Austin, Texas. We like to write, produce, & edit projects for t.v. and the web. We specialize in brand films, corporate identity work, as well digital advertising and t.v. broadcast advertising. If you need help with your script, production, or just an idea, give us a call.