Big Wig Broadcast Campaign

The creatives at Adrenaline Agency in Atlanta came to us with a fun concept that empowered everyday folks to see themselves in a Victorian state of mind. Their client, Workers Credit Union is a Boston-area organization that forms individual relationships with each of its members. In doing so, it can specifically service its members' banking needs in a way that a large banking institution might not be able to.
Adrenaline Agency recognized that one of the core strengths of Workers Credit Union is that it can give more personalized attention to its members. The idea of the credit union member as a Big Wig was born. The campaign introduces Workers as the credit union that puts its clients at the center of the universe, solves all of their banking needs, and proves they're the approachable bank with a sense of humor.
After developing the Big Wigs campaign, Adrenaline came to us with some great scripts. On the page, these spots were already funny. But there is a large gap between being funny in writing, versus being funny onscreen. The challenge for us was to bring this comedy to life and to do it in fifteen seconds since Adrenaline's media plan was 4 different, 15-second broadcast t.v. commercials. Check out all four in the director's cut versions above, and then we'll jump into how we brought them to life!
The goal for Revelator, and our director Jake Eide was to make the t.v. commercial campaign engaging for our audience with fun choreographed vignettes that makes them laugh out loud. To do this, we wanted to give these stories three core qualities: they should be funny, relatable, and memorable. With these qualities in mind, we set out to dial in the right tone.
Big Wigs – Visual Inspiration from Director Treatment

This is a comedy, so the tone is funny, right? Well, yes, but it isn't quite that simple. We wanted to make sure that we made people laugh, but also created characters that were fun and relatable. In terms of comedic style, it was very important that the audience laughed at the image of modern people in Victorian wigs, and that the characters themselves didn't become the target of the joke. This idea helped guide our casting process, the wardrobe decisions, and the performances of the actors.
One technique we used to develop these characters visually, was to take a nod from classical portraiture and use a style of positioning the subject that was popular during this era. The figures were often posed in a 3/4 position with their head and body facing one direction, but their eyes look the opposite way. The defining characteristic is the way their eyes cross to the other side of the frame.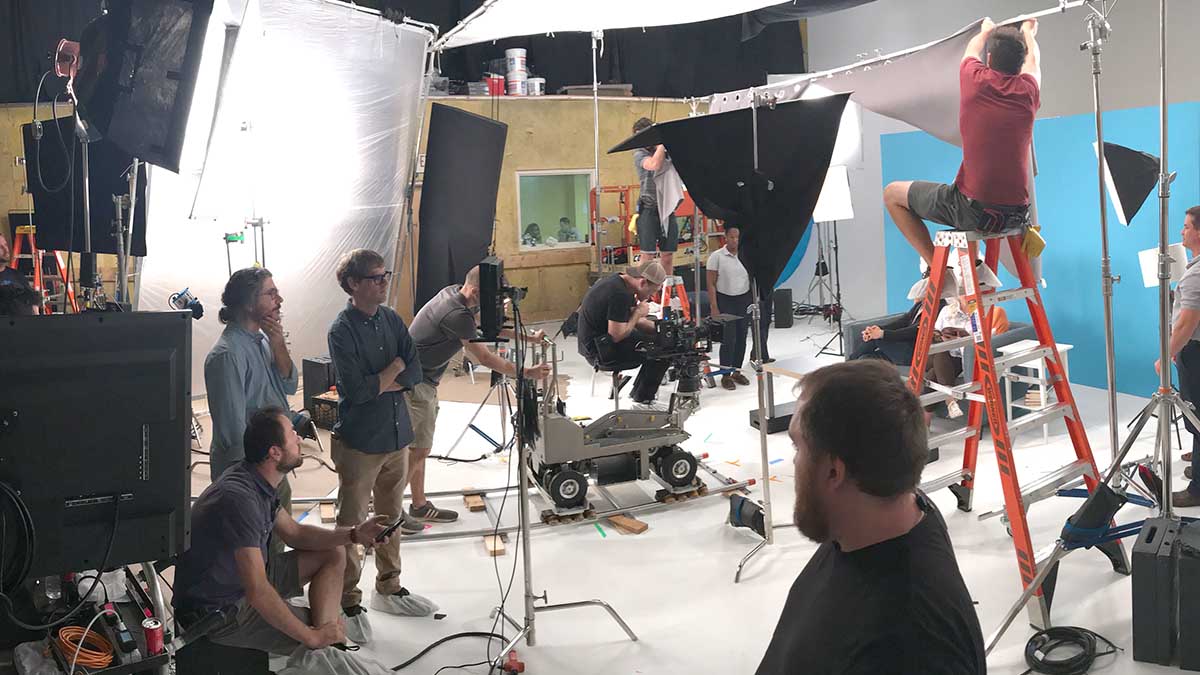 On-set at Magik Lantern Studios in Atlanta, GA
To hold the audience's attention for each: 15 commercial, we landed on the idea of shooting each spot as a 'oner' without any cuts. This presented us with the challenge of choreographing all of the blocking cues and camera movement so that it precisely fit in the allotted fifteen seconds. After a lot of brainstorming with Adrenaline, we landed on the plan to rehearse heavily with a metronome and temp voice-over. Then, we execute that "ballet" using our metronome in the studio shoot, to help keep each cast and crew member in sync for each take.
The planning and rehearsals definitely paid off! What we ended up with was a series of spots that communicated the core campaign message: Workers makes its members feel like a Big Wig. This was a very fun shoot to execute, and we couldn't have done it without our dedicated Atlanta cast and crew, as well as the incredible team at Adrenaline Agency. Together, we believe we've created a family of broadcast spots with a sense of playfulness and fun. Don't be afraid to watch them over and over, just to feel like a Big Wig.